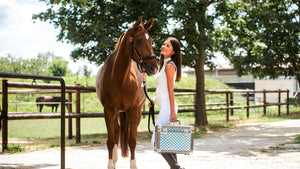 NOT CONVENTIONAL
The Uniqhorse Way
Quite simply we make everything you need at the stables - and nothing you don't. We started with the perfect grooming box, then built from there creating a range of equestrian standards that appeal to all types of equestrians - dressage, jumping and all others.

Each product is developed from the equestrian experiences of friends and stablemates. Our pieces are thoughtful, with features that solve riders problems and premium materials chosen to be resilient and beautiful.
We really love creating awesome products. To give equestrians like you better access to these, we sell them exclusively to you online.
Truly uniq means making more out of every day at the stables. That's the idea, and the mission, behind everything we do.